The British Police Symphony Orchestra and PC David Rathband's Blue Lamp Foundation invite you to light up the skies in support of #Team999
Sunday 27th September, 2020 at 20.00
You can join all members of the emergency services blue light teams and members of the public across the UK in a celebration of the brave men and women who respond to our 999 calls and who work so hard to keep us and those we love safe in extreme circumstances.
Featuring a full symphony orchestra, internationally acclaimed classical pianist, Benjamin Frith and massed choirs, Rick Wakeman's sparkling Dance of a Thousand Lights will provide the perfect soundtrack to a visual spectacular, whilst also raising valuable funds for PC David Rathband's, The Blue Lamp Foundation.
Under the socially distanced baton of Musical Director, Dr Richard Jenkinson all prior rehearsals and recordings will take place in complete isolation; no small achievement for hundreds of musicians drawn from police force areas throughout the UK.
The film of this will pay tribute to all who serve in our ambulance, fire and police services, many of whom have pushed themselves to protect and support members of the public, to the point that they are running on adrenaline in this current crisis. At some point they will have to sit down, switch off and let someone else help and protect them.
Support this unique fundraising project and you can help The Blue Lamp Foundation to make sure that someone will be there for them when this happens.
The foundation provides support for emergency services personnel who have been injured in the line of duty. It was set up by the late PC David Rathband after he was shot and injured on duty with Northumbria Police in July 2010. This October, the Foundation will celebrate its 10th Anniversary and its importance to emergency services personnel who have been injured in the line of duty is just as crucial today as it was a decade ago.
Support this project by being part of the celebration on the 27th September at 20.00 and shine your phones into the skies to marvel as the blue lights from all emergency vehicles throughout the land dance so brightly that they can be seen from space.
Support this project by buying the #Team999 merchandise by visiting our online shop or click here.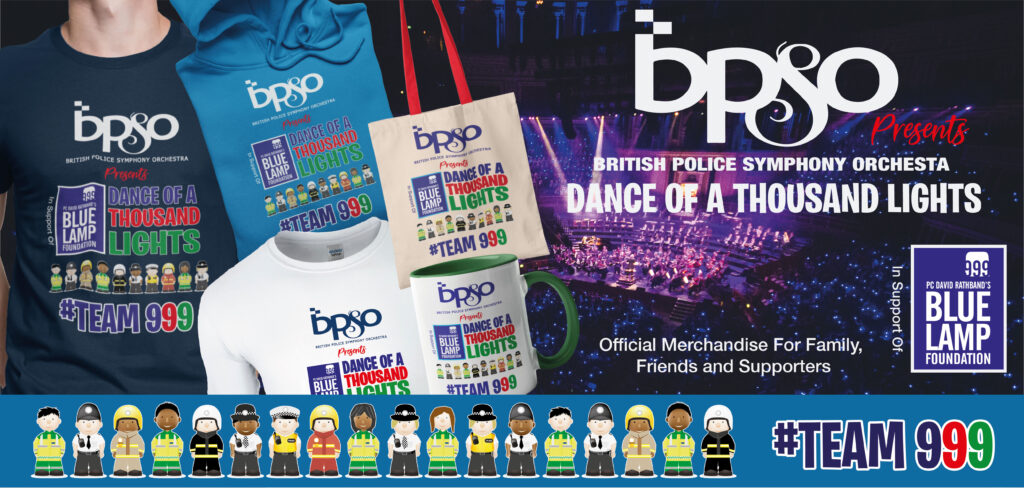 Support this project by following us on social media
Facebook: @bluelampofficial @britishpolicesymphonyorchestra
Twitter: @bluelampfound @policeorchestra